Mmmm gingerbread men! Why not get creative in the kitchen and turn regular gingerbread men into superheroes. We found a recipe from Just Imagine and we thought we would spice up their men and women by making them heroes and heroines. Michelle from SugarSwings inspired us to add a unique twist and design something children will love.
With a little help of our products you can be well on your way creating these hero cookies.
PRODUCTS NEEDED
Piping bag
Food Colouring
GINGERBREAD COOKIES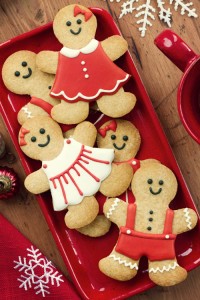 125g butter
1/3 cup sugar
1/3 cup golden syrup
3 cups flour
½ teaspoon ground ginger
1 teaspoon cinnamon
3 teaspoons baking soda
1 egg
1 teaspoons vanilla essence
METHOD
1. Place butter, sugar and golden syrup in saucepan and heat gently until butter melts. Allow to cool, then add baking soda.
2. Add sifted flour and spices and mix well, then add egg and vanilla. Mix to form a soft dough.
3. Roll dough out thinly, cut into shapes then bake on a greased oven tray at 180°C for 10 minutes. Cool on wire rack, then ice.
ICING IDEAS